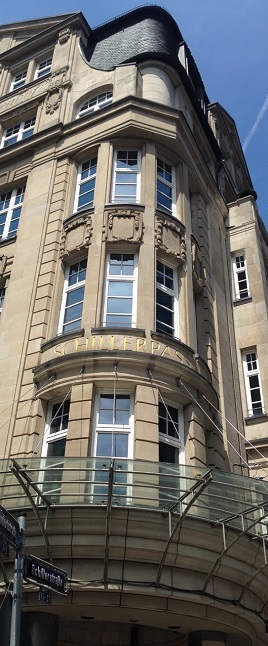 A culinary adventure at the Schiller Market…
Away from the hustle and mass consumerism of the Zeil you can find a more individual shopping area based around Schiller Street. The individual businesses there have formed a dedicated community called the Schillerstraße E.V and together offer many regional delicacies. Discover this exciting quarter with me and look forward to some special tastings!
The so-called New Town was completely restructured in the second half of the 19th century. The many richly decorated buildings were constructed here in the style of that period and Arte Nouveau and are well preserved. The street even had its own tramline well into the 1960s!
Every Friday this street has held its market for over 20 years. I will introduce you to some of the traders from the approximately 40 stands and you will listen to their personal stories. The stand from "The Vogelsberger" farm focuses on ecology and sustainability. Have you heard of Wagyo cattle or a special English breed of pig called the Berkshire? You'll learn about animal welfare, breeding and slaughter and experience an alternative to factory farming.
Another market stand comes all the way from Thuringia to offer seasonal creations of pastes, mustards, different Spree Walder cucumbers etc. Everything is freshly prepared by a small "East-West German Friendship Company" in Erfurt.
The tour ends with a "cheese room" with a special flair. The motto "good milk" combines the passionate cheese sommelier Vartan D. Kevorkyan with fine wines. About 150 varieties of cheese from all over Europe, but also fresh Odenwald organic milk, home-made yoghurt etc are offered in a special, casual setting.
With a glass of wine and a small cheese tasting the weekend can begin in a relaxing way…
The tour offers a blend of tastings, information about the products and many interesting facts about these small spots in Frankfurt!
Der Vogelsberger – Schäfer GmbH
Ulrike Kalb
Frauenberg 48
36329 Romrod-Zell
http://www.der-vogelsberger.de
Spreewalder und Thüringer Spezialitäten
Herr Eyrisch/Herr Rabisch
Spielbergtor 9
Erfurt
Gutes aus Milch
Vartan D. Kevorkyan
Schillerstraße 30-40
Frankfurt/Main
www.gutesausmilch.com