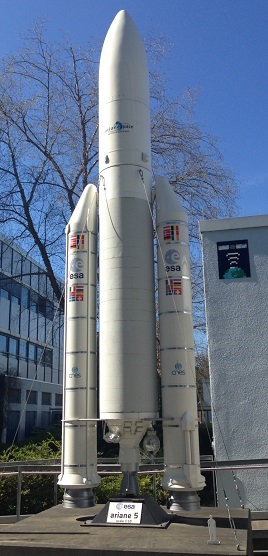 Darmstadt
– a guided tour that is out of this world –
Due to COVID-19 restrictions tours around ESOC are presently not possible
Less than 30 minutes from Frankfurt by car or train, this city is famous for being the centre of the Art Nouveau movement but it is also home to the European Space Agency's Space Operations Centre (ESOC). The European equivalent of NASA's "Houston".
The newspapers regularly report news about spacecraft launches, space junk or supernovas. If you are interested in any of these topics, you should not miss the opportunity to visit this unique centre. ESOC presently controls sixteen satellites: one orbiting a comet and another Mars, others are collecting essential data for our understanding of climate change and others observing black holes and supernovas.
During a tour of the grounds and some control rooms you will experience at first hand the daily life of this control centre and get the latest information on current and future missions.
Please contact the address below to register:
Darmstadt Marketing GmbH
Elisabethenstraße 20-22
64283 Darmstadt
T: +49 (0)6151 – 13 45 16