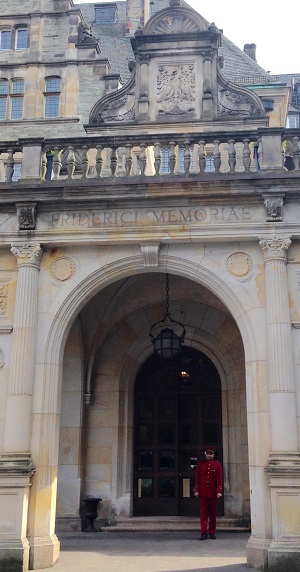 Schlosshotel Kronberg
– A Royal Hotel –
This luxury hotel, which was opened in 1954 was originally built in the late 19th century by Empress Victoria of Prussia and named "Castle Friedrichshof" in memory of her late husband Emperor Frederick III of Prussia. The architecture successfully combines the English Tudor and the German Renaissance styles.
Victoria was born in 1840 as Princess Royal of Great Britain and Ireland. Her parents were Queen Victoria of England and Prince Albert, Prince Consort. Their eldest son was the last German Emperor Wilhelm II.
During the hotel tour I want to take you back into the 19th century world and the amazing life of Empress Frederick, as she was called after the death of her beloved husband. We will visit some of the historical rooms and suites. The Empress worked and lived in her specially designed "English Country Home" from 1894 until her death in 1901. She was frequently visited by royalty, famous artists and politicans of the time.
Today, the Schlosshotel Kronberg is part of the "Hessische Hausstiftung" (foundation), run by Donatus Landgrave of Hesse and Rainer Prince of Hesse.
By following the link to the Prinz von Hessen website below you can find all the information relating to culinary and touristic offerings from the Hessische Hausstiftung.
Tipp :
If you are interested in the rich history of the Royal Family of Hesse then it could be worth a tour around Westend to relive the exciting and sometimes tragic lives of the the Six Princes of Hesse
A great book on the subject in German is: "Die Hessens – Geschichte einer europäischen Familie", by Rainer von Hessen